A Word from the Managing Director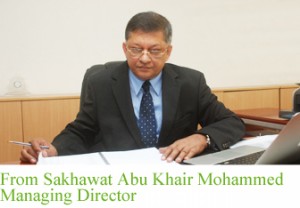 With pleasure and pride I would like to proclaim that Robintex Group, a Germany-Bangladesh Joint venture, has internationally been renowned for its continual accomplishment in exporting quality knit apparels to the international markets from its establishment in 1996. Guaranteeing total quality management system, our achieved certificates & awards, industrial & social compliance have made many global prominent brands delighted and satisfied with our business voyage. Starting thru the initial investment about US$3 M, today, an aggregate investment of US$95.55M, direct employment of 7500 people, and an export of about US$65.11M in 2011 would shortly mean what Robintex is all about.
As a fully composite knit textile industry of Bangladesh, Robintex Group is operated with two divisions, textile and garments with the backing of its the world latest machineries and mastering technologies from Germany, USA , UK, Japan, Switzerland, Australia, Italy, Singapore and India.
Being approved manufacturer and exporter to work for some of the world reputed and quality sensitive apparel brands, Robintex is keen to ensure quality in production, and to endorse the optimal value to all who make the whole value chain it deals with. Keeping the emerging industrial prospect of Bangladesh in view, Robintex is committed to remaining in the forefront of this journey by conducting feasibility studies as well as international market and trade analysis. All the way, with appropriate technological profile and costing efficiency programs, it will dedicate itself to keep on sharing its success with the global communities engaged in the world trade in textiles & clothing for many years yet to come.
Apart from that, as conservatively projected based on our buyers commitments, however, our business would continue to grow in the same fashion for years to come and, therefore, for an instance, we have gone for further expansion to increase our production capacity by 25 percent to about 6 million pieces of garments a year.
Yes, we can strongly say that we have internally succeeded in avoiding wastage and consumption failure and hence ensuring delivery deadline, definitely maintaining productivity and quality with efficient synchronization among knitting, dying, finishing and garmenting. For an instance, all of our sewing and other garmenting machines are of world-class brands with semi as well as fully automated features. Besides, testing of yarn, fabrics and chemicals are conducted in a proper and periodic way for guarantying the quality in every stage.
Last but not the least, we will be carrying our constant efforts in retaining the efficiency in Compliances to mange and control its workforce that we mostly prioritize. Also we are in hopes that we and all of our trade partners will benefit from the unique and innovative industrial corporate merits which we have been developing over time as the one and only Bangla-German Multinational in the entire garment industry of Bangladesh. We would like to express our gratitude to all our valued customers for their continued confidence on us.
Abu Khair Mohammed Sakhawat
Managing Director Robintex-Group