A Word from the Managing Director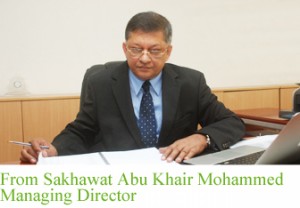 Robintex-Group has been operating in the export oriented composite knit garment industry of Bangladesh since 1996.A Bangladesh-Germany joint venture, it has deliberately identified some of the complementary advantages from both these countries to flock together to accumulate one of its major organizational strengths to infuse the mainstream lifeline in its entire corporate initiative. And, it is the unique combination of Bangladesh's history-old industrial legacy and renewed pursuit for export-led and labor intensive industrial growth with the proven leadership of Germany and the West for their appropriate technological prowess and international market experience in the related field.
From the very inception, as well, our ethical practices along with industrial and social compliances too have united us with our employees and the local as well as international communities in an excellent harmony.
In fact, for all of its professional sincerity and commitments, Robintex could take off very early along a steeper growth path. Initially we invested about US$3M, employed only 236 people and posted our first ever export worth just about US$0.092M in the year 1997. Today, an aggregate investment of US$95.55M, direct employment of 7500 people, and an export of about US$65.11M in 2011 would mean in short what Robintex is all about.
Thanks to our valued customers for their continued confidence on us, our export has been increasing, on average, at the rate of about 27.50 percent a year for over the last decade despite the tethering global economic recession. As conservatively projected based on our buyers' commitments, however, our business would continue to grow in the same fashion for years to come and, therefore, we have gone for further expansion to increase our production capacity by 25 percent to about 6 million pieces of garments a year.
As an approved manufacturer and exporter to work for some of the world reputed and quality sensitive apparel brands, Robintex is keen to ensure quality in production, and to endorse the optimal value to all who make the whole value chain it deals with.
Abu Khair Mohammed Sakhawat
Managing Director Robintex-Group