Robintex compliance standard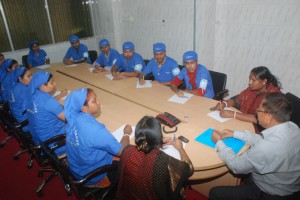 About 7,500 skilled workforce members and 1000 qualified staff and professionals are now working with Robintex Group. Robintex considers this resource as one of its major success factors. And so, as a must, it maintains a very high quality of relations with its workforce contingent.
Robintex maintains a congenial working environment in which its people can truly feel their work place as their second home.
International auditing bodies carry out independent audits for Robintex to make sure all aspects of workers rights, wages, safety as well as hygiene and security are met in a befitting way. Robintex grants some incentives, bonuses and benefits that are not legally mandatory in the country.
It keeps its human resources on a regular development program also.
Wages and other financial benefits are offered invariably on time, and as per the labor law of the country.
Certified practitioners and qualified nurses ensure medical care in its premise round the working hours. Apart from first aid supports, it provides free medicines also. It provides its employees transport facilities. Maternity attention, leave and benefits are provided accordingly. Parents working with Robintex can enjoy safe and homely childcare services maintained by the trained babysitters. It imparts trainings to its workers regularly to help improve their productivity and develop awareness about their rights and responsibilities, and to keep them always prepared to handle different types of occupational hazards.
Robintex regularly trains its workers for safe chemical handling and firefighting. Evacuation drills are carried out on a regular schedule so that all of its people can keep themselves trained and ready to respond to quick evacuation calls in case of fire or other emergencies. Thru a well- structured workers participation committee (WPC), a mutual participatory approach is practiced in Robintex. Under its capacity, the top management makes itself always available to hear the workers to mitigate their grievances in a proper way.
**HIGGSIPP PERFORMANCE STATS
Robintex has recently been awarded as -The Best Workers Friendly Knit Factory- by the government of the country.