A word from the Director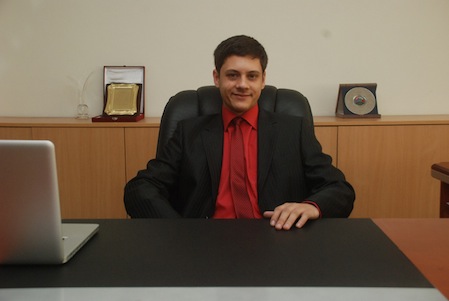 With a mission to offer quality knit apparels in the world market, Robintex Group, consisting of three sister concerns in its same premise, has been operating in the export oriented knit textile industries in Bangladesh. For the worldwide customers, I would like to convey this simple message that as a Germany-Bangladesh joint venture, Robintex has successfully started its business journey thru earning global partners faith and continual export growth from the very inception of its establishment.
Giving correct value to the meaning of our slogan, -Destined for Industrial Innovation-, we have persistently been putting our efforts to utilize unique and innovative attempts which customers may realize from our adoption of top brand machineries, mastering technologies and congenial working environment.
I believe, our endeavor of being innovative, consideration of epic potential in textiles & clothing of Bangladesh, up-to-date knowledge of world markets trade and trend together have greatly helped us to attract the eyes of some global prominent brands. Then again, giving utmost priority to the issues regarding workers interests, rights and working condition, we try to establish sustainable control over the workforce thru practicing an ideal human relation model of management. Governing the workers participation committees (WPC), for an instance, is a regular effort to mitigate the grievances of the workers in a proper way. Al these ultimately contribute in enhancing the skills and working efficiency of workers and maintaining the productivity and quality.
For fine and safe governance of our manpower, we have got our buyers more reliable on us by sincerely keeping commitment given to them. We have certainly proved our ability to apply contingent polices that are compliant to government laws, appropriate to the workers demand, befitting to changing and present socio-cultural circumstances. We prioritize the welfare activities too. We believe we have made our working place a second home for the workers and they truly feel it. To be more frank, our ethical practice and welfare activities have tied all the workers, employees and owners in a mutual understanding that promote the sense of we-feeling in the entire process of business.
Highlighting the certificates and awards is not all about to prove our position, rather, what we essentially do is ensuring the practice of quality culture that help us get rid of objections from buyers internally and minimize likely problems. What is more, we have consciously strategized our production procedures, in-house management and quality leadership that benefit worldwide appeal traders and consumers by maintaining delivery schedule most professionally and on top contending for the price leadership which a buyer can definitely rely on and find it most competitive in this region, or probably in the entire world.
We have very carefully determined our vision, mission and related strategies conforming to developing and retaining our achieved industrial and technical strength i.e. in the aspect of social and environmental compliance, ideal workforce management, export performance, product quality, utilities , costing efficiency and above all quality leadership that ensure the delivery thru proper channels in time. It is a good indicator for our company that our export has been increasing, on average, at the rate of about 27.50 percent a year for over the last decade despite the tethering global economic recession.
Keeping abreast of the fabrics quality in global context and demand, Robintex, being an active member of BCI, is very much conscious about not only the yarn quality but also the best of knitting quality by using the most dependable computerized circular and flat knitting machines of top-notch quality. Again its use of Germany origin high speed Terrot circular knitting machines from the year 2012 is an instance of our commitment of bringing innovation in production. Frankly speaking, following quality mix standard approach and the principles of Total Quality Management System (TQM) from the starting to end, we aim at strengthening entire position as a composite knit textile industry. This way Robintex Group is moving forward to ensure product quality, healthy and green working environment with satisfying conditions and above all to maintain delivery deadlines with highest level of professionalism.
We always pleasantly welcome the potential customers to visit us and look forward to their interests to experience a better business with us. They will of course like our demonstration of infrastructural and industrial strength and attitude towards business commitments what we respect the most. Last word is we are truly grateful to all valued clients whose trust on us supported a lot in enjoying a continuous growth for long and in the continued expansion of business for Robintex Group.
Robin Razon Sakhawat
Director Robintex-Group